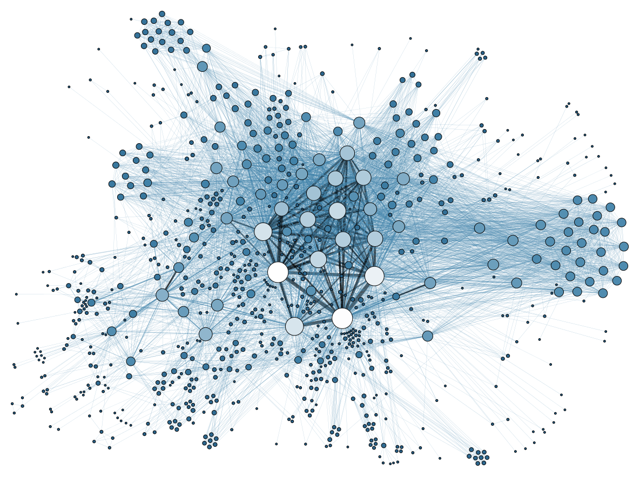 The Wall Street Journal has stated that Blockchain as a "distributed ledger technology" is a "trusted way to track the ownership of assets without the need for a central authority, which could speed up transactions and cut costs while lowering the chance of fraud." The graphic shows a distributed ledger technology as can be deployed using Blockchain technology.
Companies, both large and small, Fortune 500 and MicroCap alike are drawn to blockchain technology for the benefits of what it can do within each companies ecosystem of licenses/assets and at the same time drive down costs. A NY Post writer, Johnathon Trugman, stated that "Bitcoin is the sizzle but Blockchain is the Steak!"
IBM (NYSE:IBM) has a developer site dedicated to Blockchain including an area that discusses the distributed ledger and how "blockchain will revolutionize the way organizations, such as companies and universities, conduct business transactions". they describe Blockchain as "a tamper-evident, shared digital ledger that records transactions in a public or private peer-to-peer network. Distributed to all member nodes in the network, the ledger permanently records, in a sequential chain of cryptographic hash-linked blocks, the history of asset exchanges that take place between the peers in the network."
At a time when Bitcoin has seen values ranging from under $1,000 to over $20,000 over the past years it is apparent that investors have a pent up demand for some way to profit on the technology. Recently, more and more companies are attempting to find value by adding blockchain to their company names. We have seen iced tea companies, juice companies and finance companies to name a few attempt this.
What is certain is we need to be carefully sifting through all the blockchain ideas for companies who see blockchain as more than merely mining cryptocurrencies. While a legitimate option I would suffice that in a downtrend in bitcoin one look for firms that are utilizing the blockchain in key areas such as building out the infrastructure, deploying blockchain technology within their ecosystems, and using blockchain to incentivize current customers behaviors.
In this article I will look at several companies that have blockchain operations plays, blockchain infrastructure plays and lastly blockchain consumer behavior plays. Here is a leading article in PDF format relating to blockchain and Energy.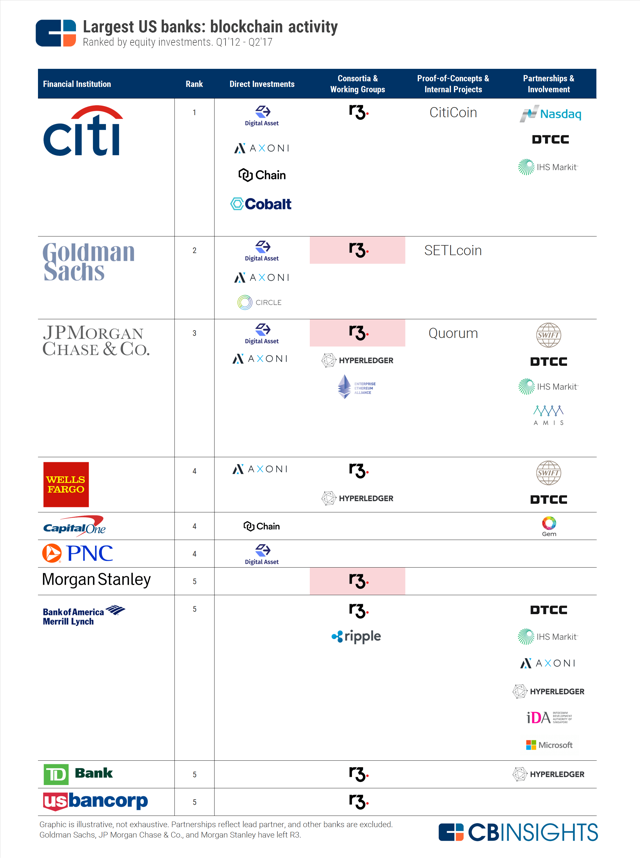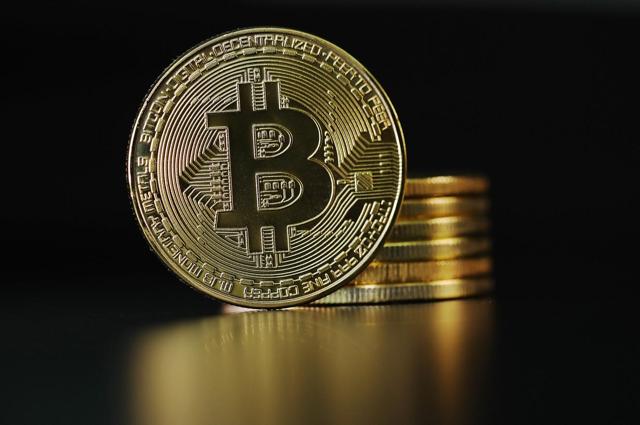 Cryptocurrency valuations as of January 17, 2018 at 5PM EST
Bitcoin $11,366
Ethereum $1,047
Ripple $1.33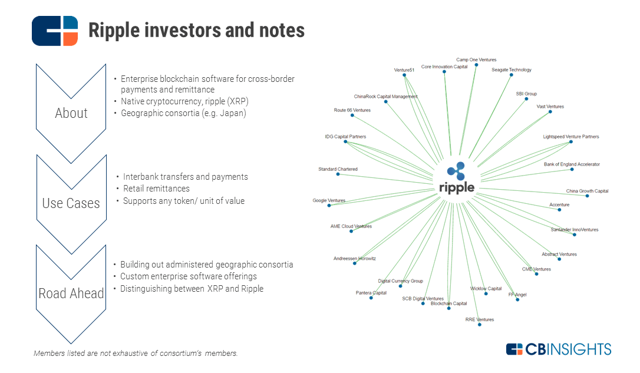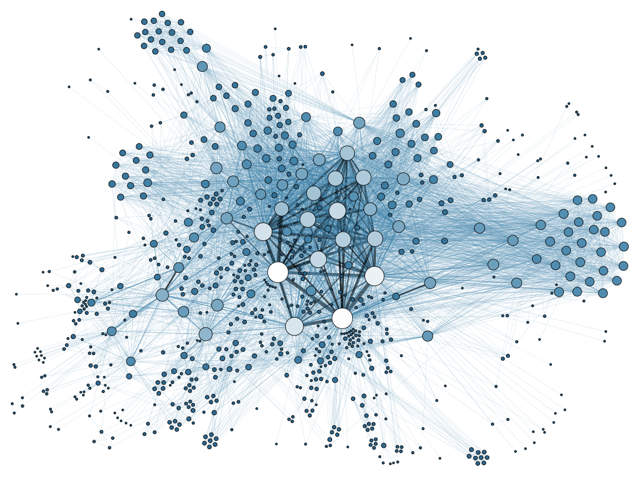 Part One
Blockchain Infrastructure/Operations plays. These are firms that are currently or proposing to have ways to deploy blockchain within their operations. The all use some aspect of blockchain including "protecting the privacy of consumers; providing proof of ownership to authenticate or give authorizations; and creating a safe network infrastructure."
International Business Machines Corp. Price: $168.47 P/E: 13.70
IBM is at the forefront as it uses blockchain and smart contracts and provides the infrastructure for other firms to get into blockchain. The company highlights their blockchain platform on its website
IBM has a growing number of products within the Blockchain ecosystem that it lists here on its website as "bringing together the world's most advanced expertise, technology and ecosystem to transform industries".
Their Blockchain platform allows the users company to develop their own blockchain application and activate a blockchain network through using IBM Blockchain Infrastructure.
Their Blockchain developer Dev Center allows for the tools to work in their Blockchain Infrasture within DevOps.
In March of 2017 Forbes released an article about IBM doubling down the bet on Blockchain. Their early involvement with HyperLedger as a member of the production ready blockchain.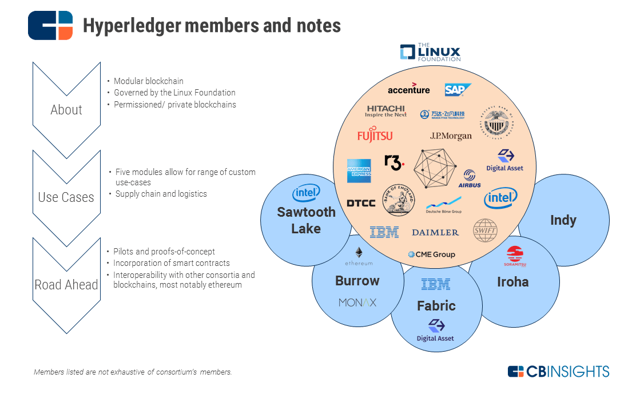 Overstock Inc. (NASDAQ: OSTK) Price: $75.65 P/E: –
Overstock, CEO Patrick Byrne, through its' blockchain focused subsidiary Medici Ventures partnership on a global property registry based on the Blockchain technology with Peruvian economist Hernando de Soto, who argues that "formal documentation of land ownership is the key to alleviating poverty in underdeveloped countries".
Overstock is the third most active corporate investor in blockchain technology according to data company CB Insights, second was Google and first was SB Holdings out of Japan.
Independent investor Marc Cohodes believes this if Overstock delivers on their blockchain investment the shares are worth $200-$400 each.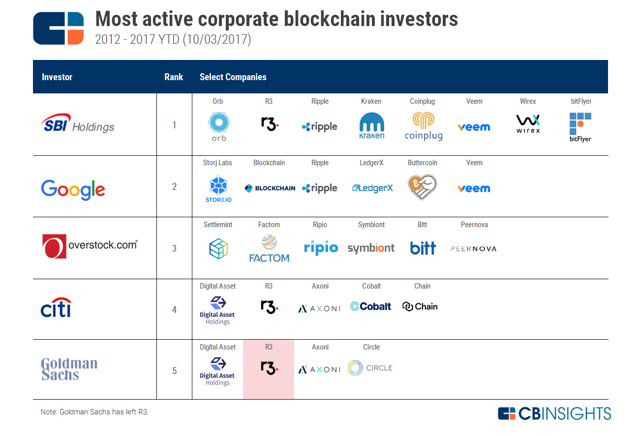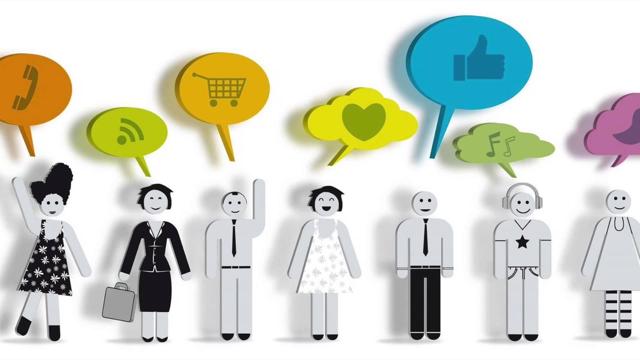 Part Two
Blockchain Consumer Behavior plays. These are firms that are currently or proposing to have ways to deploy blockchain within their current consumer base including sales and marketing tokens, consumer reward tokens, blockchain to track inventory/rights, and consumer financial services.
Square Inc (NASDAQ: SQ) Price: $40.07 P/E: –
CEO Jack Dorsey is a huge proponent of blockchain and Square implemented SquareCash allowing access to bitcoin. The CEO has taken a hands on approach and sees blockchain as an important technology. Here they discuss much about SquareCash in detail:
Square, a payments processor, began allowing some of its users the ability to buy and sell bitcoin as it opened up to the realization that its' customers wanted access to cyptocurrency.
Square Cash app is a person-to-person (or P2P) payments platform that also supports the withdrawal of funds through bank ATMs. Square's new service operates like a bitcoin exchange that lets Square Cash users buy and sell bitcoin directly from the Square Cash app. Bitcoin purchases are held in the mobile wallet in the same manner that cash balances are held.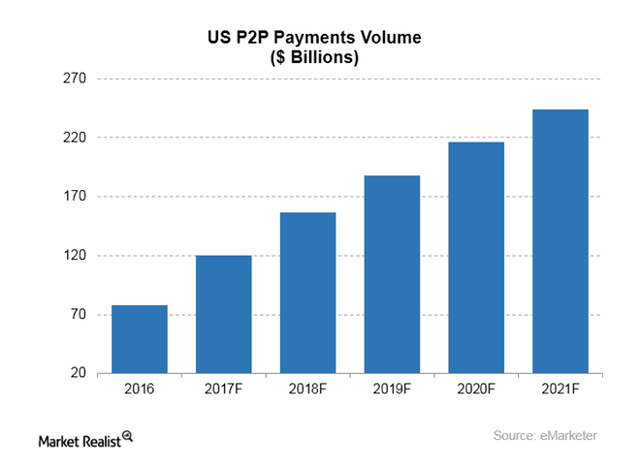 [SquareCash] unlike cash, doesn't allow person-to-person transfer of bitcoin in the Square Cash app. The restriction on bitcoin peer transfers appears to underscore Square's view of the cryptocurrency as an investment rather than a means of payment. For Square, supporting bitcoin trade on its platform matches its belief that cryptocurrency can expand the participation of individuals in the global financial system.
This option "opens Square up to an additional 35-40 Billion market known as the US Alternative Loans Volume market" according to MarketRealist.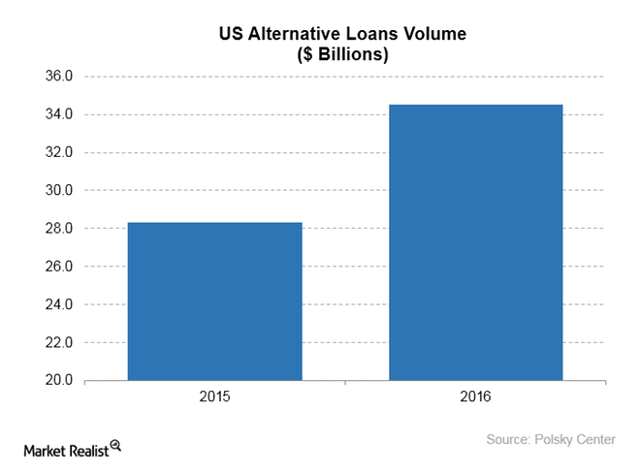 Similarily, according to the Market Realist, Credit Suisse estimates the venture could inject $30.0 million to the company's top line in two years. Bitcoin exchanges such as US-based Coinbase charge users a fee to trade bitcoin on their platforms. Square is expected to monetize its bitcoin service in a similar manner.
Banco Santander SA (NYSE: SAN) Price: $7.20 P/E: 13.61
Banco Santander was the first U.K. bank to introduce Ripple's blockchain technology to facilitate international payments through a new app (XRT.X)
The graphic above displays the Ripple investors and Banco Santander SA through Santander InnoVentures is an early adopter of the cryptocurrency. Their FinTech division launched a $100 million fund in July 2014 "to get closer to the wave of disruptive space. We aim to support the innovation in the FinTech digital revolution to make sure Santander customers around the world benefit from the latest know-how and innovations across the Banking Group's geographies."
The bank has several partners in the field through InnoVentures that are listed here.
American Express Co (NYSE:AXP) Price: $100.72 P/E: 19.34
In a patent application the firm is looking utilize blockchain for a consumer rewards system. It will give the firm much needed exposure in blockchain as it engages with its rival Citibank (C) in blockchain tech. The also announced they were joining blockchain hyperledger, following after IBM. They will have a consumer reward network on blockchain hyperledger as they "provide rewards by collecting personalized data about its customers, including their historic spending patterns".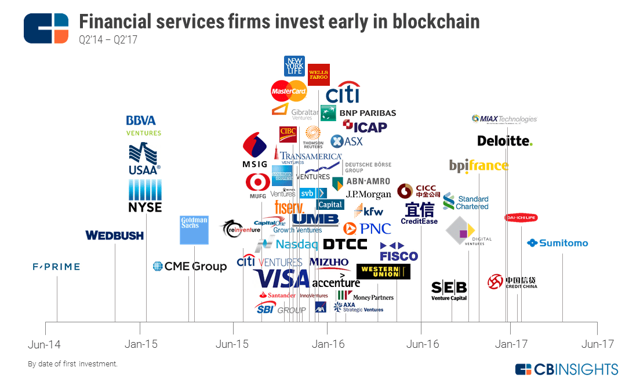 Not to be left out there are several small cap and micro cap names that deserve a mention.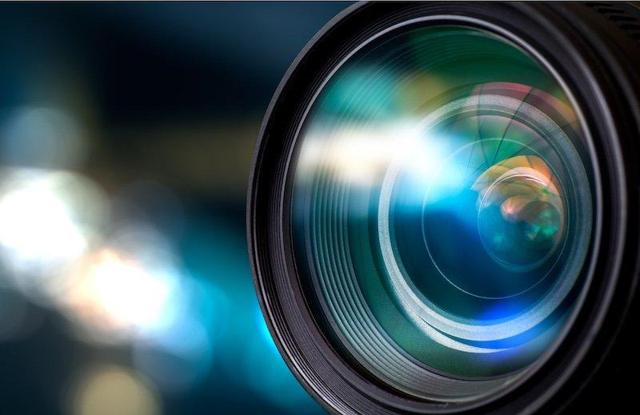 Eastman Kodak Company (NYSE:KODK) Price: $9.42 P/E: –
Utilizing blockchain technology, "the KODAKOne platform will create an encrypted, digital ledger of rights ownership for photographers to register both new and archive work that they can then license" within the platform. The token called KODAKCoin is "a photo-centric cryptocurrency that will empower photographers and agencies to take greater control in image rights management."
Kodak, which abandoned its unprofitable legacy business lines and eventually exited from bankruptcy in 2013 sees the "Kodak's initiative in creating a blockchain-powered digital rights market for photographers, both professionals and amateurs, makes a lot of sense", says Guilio Prisco. According to Ars Technica, "KODAKCoin is simply a rebranding of RYDE, a cryptocurrency developed by WENN Digital."
As an avid photographer I believe this shift makes a ton of sense. The CEO of Kodak stated, "For many in the tech industry, 'blockchain' and 'cryptocurrency' are hot buzzwords, but for photographers who've long struggled to assert control over their work and how it's used, these buzzwords are the keys to solving what felt like an unsolvable problem," said Kodak CEO Jeff Clarke. "Kodak has always sought to democratize photography and make licensing fair to artists. These technologies give the photography community an innovative and easy way to do just that."
Helios and Matheson Analytics Inc (NASDAQ:HMNY) Price: $ 7.73 P/E: –
MoviePass™, the nation's premier movie theater subscription service and a majority-owned subsidiary of Helios and Matheson Analytics Inc. (Nasdaq: HMNY) is led by Mitch Lowe, its Chief Executive Officer. Mitch worked with HMNY to change the MoviePass™ monthly subscription fee to $9.95 in August 2017 resulting in the service's recent national attention and success in attracting new paying subscribers and announced in January 2018 that it added 1.5 Million subscribers in record pace.
Investors will be paying close attention to ICO Investment Opportunities in 2018 according to the Wall Street Journal including at MoviePass where they have discussed an ICO to use as a consumer rewards system token to incentivize desired consumer behavior. They have also expressed a desire to conduct an ICO so that it has a token to use in studio promotions and moving digital rights ownerships to the blockchain.
Wayne Druggan recently reported on all MoviePass has accomplished over the past six months. As the subscriber growth grew the company has targeted blockchain to monetize studio and cinema revenue streams. MoviePass "is a speculative investment" per Chris Lau, "which has the potential if it can grow the subscriber base to over 5 Million users." This would, in his opinion, "squeeze short sellers, where the short float is 23% because the market likes to buy companies with a growing user base."
Recent CEO appearances on CNBC have conformed this adoption of blockchain including multiple ICOs planned in 2018.
CNBC Video Jan9 – $1.5Millions Subscribers.
CNBC Video Jan 10 – Blockchain and MoviePass: ICO as consumer rewards, studio marketing, and Blockchain for User Licenses.
Yahoo Video Jan16 – MoviePass and Cash Flow Positive Sustainability and Self Sufficient as a standalone company.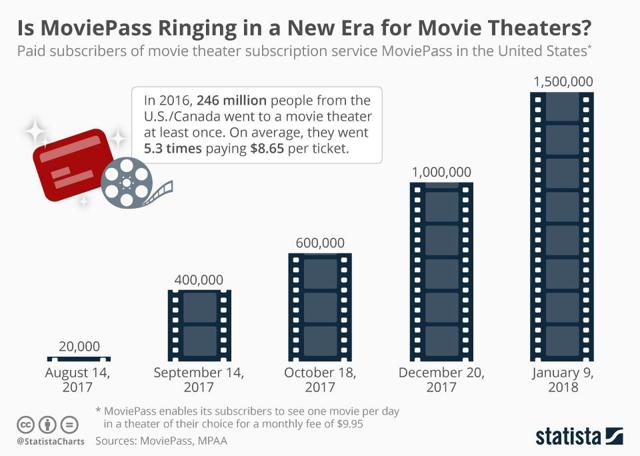 Xinruan Real Estate Co, Ltd. (NYSE: XIN) Price: $7.82 P/E:12.11 Yield: 5.0%
A Multinational real estate developer and property manager primarily in Beijing, China and the first Chineese real estate developer to enter the US market. The company also is engaged in blockchain technology:
As IBM's first blockchain cooperation partner in China, Xinyuan established the online platform that connects home owners with broad channels for financing opportunities, while enjoying the safety, transparency and convenience afforded by IBM's blockchain technology.
CB Insights states that within Blockchain "corporate players have shifted between private blockchains, public blockchains, and consortia. With recent successful pilots thrusting the technology back into the spotlight, corporate investors will have to take a hard look at their blockchain bets and consortia memberships to find concrete solutions in this developing sector."
However that corporate shift takes place more and more corporations are taking notice of BlockChain and what the Blockchain can do for them.
While many of these will give you exposure to Blockchain technology, the list is not exhaustive. My first article discussed MoviePass, Netflix (NASDAQ:NFLX) and Spotify as it relates to a exponentially rising subscriber base, you can read more about it here. If you enjoyed the article subscribe to CyberGopher for more coverage including CyberSecurity.
Disclosure: I am/we are long HMNY.
I wrote this article myself, and it expresses my own opinions. I am not receiving compensation for it (other than from Seeking Alpha). I have no business relationship with any company whose stock is mentioned in this article.
Editor's Note: This article covers one or more stocks trading at less than $1 per share and/or with less than a $100 million market cap. Please be aware of the risks associated with these stocks.