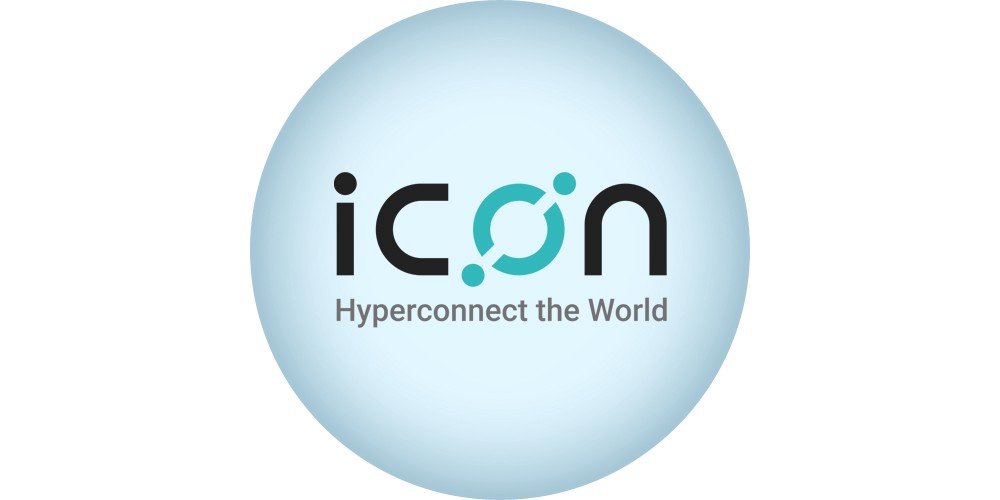 Mid May Update: Technicals
On the 4H timeframe, ICX is doing some serious action. ICX has finally turned the corner and is moving up to the first resistance line at 4990 sats – a confluence line of Fib236 and a previous high from 2 days ago. It is also clearly forming a mini ascending triangle – a bullish formation that usually forms during an uptrend as a continuation pattern.
A potential scenario on how this could play out is below – target would be 7920 satoshis before another pullback. One important remark: bitcoin needs to move sideways and loose the grip on altcoins so they can get some volume and recover. A sudden move by BTC, up or down, would violate this setup.
Longer time frames like daily or weekly are still not registering these reversals. It did form a double bottom in the last couple of days as market rejected bears attempts to sink ICX below the 4060 sats. All moving averages are still lined up in the bearish setup so ICX needs to smash EMA20, MA50 and MA200 first, before reaching the 7900 sats resistance.
One thing to bear in mind is the turbulent and erratic nature of bitcoin – a sudden thrust up or slide down is always on the cards which would invalidate this and all other analysis and predictions. In such cases, market is shaken up with most traders exiting altcoins and entering bitcoin positions, especially in the initial phases of bitcoin pumps. So it is always good idea to keep a close eye on bitcoin's behaviour before opening a long or a short on any other coin in the market.
Should this happen, stop by again to check out our updated charts and thoughts.
ICX is up 2.8% in USD on the week and 14.4% on BTC in the same time-frame.
Trading volume is relatively low – reported volume in the last 24hrs is $6.8m (the strongest volume day in April for ICX was April 23rd with $40.4m) and "Real 10" (trading volume on the exchanges that provably prevent wash trading) volume is 3x lower – $2.2m. This means that ICX's liquidity is only moderately inflated and its trading volume is overstated by 3x which is comparatively great ratio.
In the last 24 hours, 49% of trading has been on Binance, followed by DragonEX, LocalTrade and HitBTC. Most traded ICX pair has been ICXUSDT – 49%, followed by ICXBTC at 37%.
Moreover, ICX has a somewhat strong buy support, according to coinmarketbook.cc. Buy support is measuring sum of buy orders at 10% distance from the highest bid price. This way we can eliminate fake buy walls and whale manipulation and see the real interest of the market in a certain coin. ICX currently has a $685k of buy orders measured with this method, which sets ICX buy support/market cap ratio at 0.43%, a wide-market average. Bitcoin and Ethereum have a 0.27% and 0.28% ratios, respectively. This novel metric indicates there are a lot of manipulations, inflated liquidity and fake orders on all crypto trading pairs, including ICX pairs.
Social metrics
Icon's market sentiment score, measured by the market analytics firm Predicoin, paints a neutral picture.
Predicoin wraps its analysis up into a single simple indicator known as the SentScore, which is formed from the combination of five different verticals: news, social media, buzz, technical analysis and fundamentals.

Icon currently has a Sentscore of 4.3 which is defined as "the neutral zone". You can see that Reddit buzz has stayed pretty much the samein the last 30 days with a dip in activity in the middle of month. Twitter buzz has picked up while the search volume on search engines has marginally decreased. The overall sentscore has been on the same level for the last 30 days, fluctuating in the zone between 4.5 and 6.0.
Overall, Predicoin's Sentscore is an excellent indicator of community interest and can provide useful insight into which coins are trending right now.
Mid May Update: Fundamentals
To assess fundamental health of a project, we used the FCAS metric. FCAS is a comparative metric whose score is derived from the interactivity between primary project lifecycle fundamentals: User Activity, Developer Behavior, and Market Maturity.
There are a few sub components which provide data to each fundamental:
User Activity is comprised of Project Utilization and Network Activity
Developer Behavior is comprised of Code Changes, Code Improvement and Community Involvement
Market Maturity is comprised of Liquidity and Market Risk. Market Maturity has less than 5% impact on a project's overall FCAS.
FCAS ratings are on a 0-1000 point scale with a corresponding letter grade. Break points are based on standard deviations in the underlying component distributions.
900 – 1000 is marked as S for superb. 750 – 899 is marked as A for attractive. 650 – 749 is marked as B for basic. 500 – 649 is marked as C for caution. And finally, below 500 is marked as fragile. You can read more about it here.
Icon has been ranked as the C category – cautious with overall 590 points as of May 7th. By far the strongest metric that contributed to this bad score is developer activity that got 833 points, while terrible user activity amounted to only 268 points and market maturity had 629 points. This valuation model doesn't look favorably on ICX as it puts a lot of emphasis on its low utility and network activity.
Below are some of the most important news
around the project in the last 30 days.
P-Rep TestNet have opened on April 30th. The TestNet will allow P-Rep candidates to check the technical status of the nodes and simulate activities to ensure long-term stable operation of ICON Network in the future. Once theP-Rep TestNet Application Form (http://bit.ly/2UOW7Dz) is submitted, the ICON Team will review the application and provide TestNet access to successful candidates. The P-Rep TestNet will run depending on operational and technical circumstances. P-Rep stands for public representative. The ICONstitution and Governance Paper states that P-Reps "propose and vote on policies that maximize overall ICONists interest of the ICON network."
In other newsworthy events, Icon entered a partnership with SBI Savingsbank to release blockchain-based personal authentication services. They also started cooperation with UN Agency for information and communication technology and also with VELIC, a listing partner for ICX Station. You can read their official summary of Q1 on this medium post.
Below is our long-term forecast where we cover general market movements and sentiment shifts before delving deeper into the specific predictions for ICX.
ICON Intro
The vision of the ICON Project is to introduce the new era of decentralization by redefining the meaning of communities and creating a new world by connecting such communities or to put it in their words: "With ICON, we now enter into a world of true hyperconnectivity".
Icon conducted an ICO in October 2017 in which half of total ICX supply was sold to the public. The total supply created is 800,460,000 ICX, with 400,230,000 sold to the public and circulating. Regarding release of the other 50% of total supply, the Icon website states: "Issuances of new ICXs will be determined through annual C-Rep consultation."
Year in Review
Icon was one of the most hyped projects entering last year with huge expectations pinned to the "korean Ethereum". The whole year was marked with strong bear grip of the crypto market, squeezing out the joy, motivation but also money out of both altcoin team projects and their supporters. Icon was worth $12 at one point back in February 2018 before a prolonged nosedive took it all the way down to the current $0.24 per token. That is a 95% drop, one of the largest price losses in the whole market.
The team behind the project also went through turbulence as the community lost patience with their poor communication skills and perceived lack of delivery on their promises. They did, however, react in proper manner to this dissatisfaction of their supporters by starting with regular updates on both technological and business updates around the project.
Tron – TRX: Price Forecast for 2019
There were some decent partnerships formed during the year, more on that below. As for the technical side, ICX fell short of their promises. There were a lot of delays and their roadmap of 2018 was completely ignored with most of the deliveries coming out late by 6 to 12 months.
In Q3, as a rebranding strategy to maximize synergies of the interchain project, the company behind ICX changed the corporate name and CI (Corporate Image) of theloop to ICONLOOP. 
The ICON Team solidified the foundation for the full expansion of the ICON ecosystem and innovation in governance with their token swap support, the release of the technology roadmaps, the release of the Yellow Paper Part 3 — 'IISS,' and the first teaser of the ICON P-Rep election, ICONSENSUS. They also presented a blueprint of the relationship between ICON and ICONLOOP, and released an FAQ portal, one of the meaningful steps to improve communications with the fellow ICONists.
Icon (ICX) Roadmap for 2019
After a period of relative inactivity, ICON has once again started churning out updates and new information about their current and future endeavors. And what better way is there to teach the public about these than to release an updated roadmap.
The roadmap was updated in December and is expected to bring increased transparency and ease some of the concerns the community had regarding the future of the project.
This entire roadmap is divided into three sections: blockchain technology, governance and services based on ICON.
Blockchain technology section describes several areas that will have work done on them:
loopchain (p-Rep/citizen nodes, websockets in citizen, synchronization system, ICON RPC server, sync abort recovery, transaction hash/signature management, block versioning/generator rotation, a logger and SSL support)
ICON Service (JSON-RPC API, ICX manager, prevalidator, SCORE package validator)
T-Bears (CLI based SCORE development environments that will let you test your smart contract locally in an emulated environment)
Interchain-BTP (Interchain PoC for ICON-Private Chain, Interchain PoC for ICON-Public Chain, Interchain SDK for public/private chain etc.)

Parallel Processing (a scalability solution for the project's chain)
Regarding governance, ICON wants to utilize the SCORE infrastructure to perform its on-chain governance. Built-in governance SCORE, support runtime configuration, whitelist of package are just some of the features mentioned here. There are some updates about on-chain elections, IISS (feature that measures and distributes ICX incentives), as well as transaction fees.
Other roadmap points include desktop/mobile ICONex wallet, an ICONest platform for ICX-based ICOs that don't require coding, ICON blockchain tracker, a wallet app for the Ledger Nano S, SCORE updates, SDK databases for Java/Python/iOS, a decentralized identification/key management service, stablecoin solution, as well as ICX-based DEX's and even security token offerings on ICON platform.
Dogecoin Future: Price Prediction for 2019
This is a really ambitious roadmap, one that will require significant effort to complete. It's worth noting that many of the deadlines in ICON's previous roadmap were never completed so one wonders how true they will stay to this new one. This isn't an issue for now as there are no clear deadlines when anything named here is supposed to be ready. This is a big red flag as it shows no accountability and readiness to bear responsibility for the promised work. Crafting solid roadmaps is easy – delivering on them is hard.
Check out the complete roadmap here.
General Market Movements and Sentiment Shift
The downfall of altcoins that were mainstream media darlings at the start of the year, ICX among them, can be attributed, in part, to novice investors getting scared off once the bear market kicked in with a vengeance. Every resurgence of bitcoin in recent period, was met with the, for the most part, inability of altcoins to rally with it. Reason for that can be rookie investors learning from their mistakes, while smart money that was previously watching from the sidelines has begun to enter into bitcoin.
These entities weren't about to buy BTC when it was trading at an all-time high, but they'll take a look now, having missed the boat the first time around. None of them, it seems, are interested in altcoins however, despite the fact that many are trading at a 5x discount. Institutional investors may be cautious, but they're not foolish.
How to evaluate fundamentals of a crypto project
We should consider crypto valuations like educated gambling, a 'prediction market' where we are betting on the odds of project and token success. There are some catalysts of success we can identify:
Project success drivers (user traction, strong financial bottomline, good treasury management, network effects/synergies between users and token investors)
Real user traction is the most important driver of success, that is what most of holders call "adoption". If people start using certain crypto project because they find it useful and it makes their life easier, that is a guarantee of success. So far, almost no crypto project can claim to have done so.
Strong financial warchest that will enable teams behind the project to develop their visions, incentivize other developers to join them and start using their product is also a crucial aspect of any project. Tied into it is treasury management – especially for the project that had big ICO proceeds. Temptation to squander all those millions into "conferences and events" (read hard-core partying on yachts and luxury hotels) was massive, especially if we consider that majority of token projects founders were no-names and ordinary employees that worked for a paycheck before the ICO fairy-tale happened to them.
Another adoption indicator – network effects, where every additional user of a good or service adds to the value of that product to others. When a network effect is present, the value of a product or service increases according to the number of others using it.
If you can objectively notice that your favorite token project has some of these traits happening for it, be happy – you might have found a winner.
Token success drivers (favourable demand-supply dynamics, programmable incentives on token, aligned incentives with management team and consensus on token as common unit of value creation).
Token success is completely dependent on tokenomics. As defined by infloat.co, tokenomics involves the incentivization of certain stakeholders to ensure particular behavior.
So, tokenomics is essentially an incentive structure designed to ensure that a token has a purpose and utility within its native network. It is the study of how coins/tokens work within the broader ecosystem that can be considered as a sovereign micro-economy. This includes such things like token distribution as well as how they can be used to incentivize positive behaviour in the network.
For example, bitcoin is designed to ensure that bitcoin miners have a reason to mine new bitcoin. Miners validate bitcoin transactions and receive (or create) newly minted bitcoin in the process.
On the other hand, individuals, businesses and other bitcoin users pay a transaction fee for miners to include their transaction in the next block. This ensures that even when all bitcoin have been minted (to the tune of 21 million, which should happen in around 2140), bitcoin miners are still incentivized to keep 'mining' (i.e. validating transactions).
To paraphrase all of the above in the simplest terms: if you, after weeks of research and reading, can't figure out why the project needs to have a token, it probably doesn't.
So why does the token exist then?
– To make the project founders rich.
But there are some people on Twitter, Reddit, Telegram claiming otherwise.
-Yes, they are either: paid to do so by those same founders, they are desperate and delusional bad holders or they are just stroking their own ego with newly learned fancy economic terms and jargon.
Needless to say – stay clear of such projects.
Our ICX Price Prediction for 2019
ICX, as the rest of the market, is tied at the hip of bitcoin's price action. If bitcoin embarks on another bull run, ICX can hope for one as well. Since that is very unlikely, don't expect much to change for ICX price-wise in this year. So 2019 will be a year of boring sideways action with minor bitcoin ignited jumps and slumps.
In general:
The main currency in cryptocurrency markets is Bitcoin and given this, altcoins tend to fuel Bitcoin runs and Bitcoin tends to do the same in return. Given this relationship, Bitcoin price movements (or lack thereof) tend to effect altcoin prices.
When Bitcoin goes up swiftly, it will likely:
Suppress or depress altcoins as money flows into Bitcoin;
Or, take altcoins along for the ride
In cases when Bitcoin plunges, it will likely:
Depress altcoins as money flows into fiat;
Or, cause altcoins  to boom as money flows into them, but this is rarely the case.
When Bitcoin moves sideways, it will likely:
Cause altcoins to mimic that as traders wait for a clear sign on the direction of the market;
Or, cause altcoins to flourish as traders look for returns in altcoins and try to get favorable trades in terms of BTC pairs.
To summarize, Bitcoin is the focal point of the crypto market in many ways, and with BTC trading pairs on every exchange, the gravity of Bitcoin is hard to evade.
ICX-BTC Price Correlation
The vast majority of trading that occurs in the crypto markets are between BTC and altcoin trading pairs. Since most altcoins do not pair with fiat currencies (and only a few are paired with stable coins like USTD), Bitcoin is the next best option. Therefore, when Bitcoin is stable, it forms as the ideal base currency for buying altcoins (which is why altcoins tend to do well when Bitcoin goes sideways).

Correlation is measured on a scale from -1 to 1. Values above 0 shows the degree to which altcoin is moving in the same direction as BTC prices (either up or down in tandem), and values below 0 shows the degree to which altcoin moves in the opposite direction of BTC prices (so when BTC goes down, altcoin goes up, or vice versa). Values around 0 shows that when BTC price moves, altcoins stays steady, or alternatively that when altcoin moves up or down that the BTC price is staying steady.
Based on the correlation analysis, BTC and ICX have a strong positive relationship. The correlation coefficient of their prices is 0.75, which was calculated based on the previous 100-days' price dynamics of both currencies.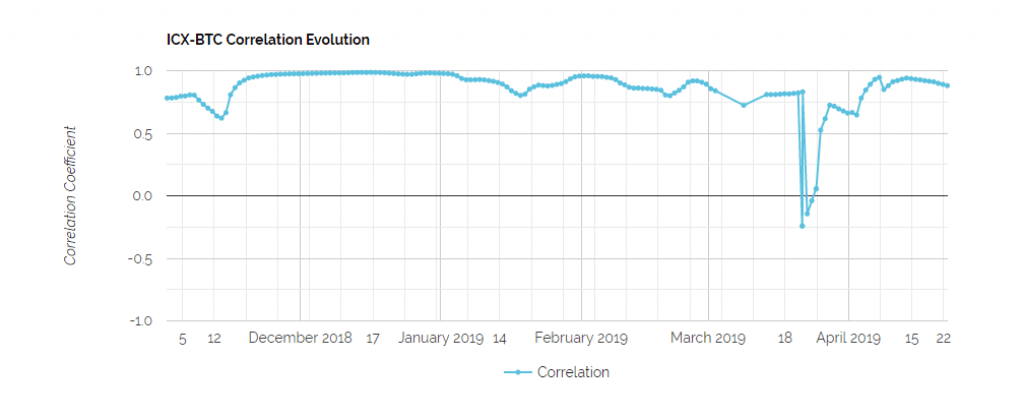 The majority of projects will fail — some startups are created just to gather funds and disappear, some would not handle the competition, but most are just ideas that look good on paper, but in reality, are useless for the market. 
Vitalik Buterin, co-founder of Ethereum said:
"There are some good ideas, there are a lot of very bad ideas, and there are a lot of very, very bad ideas, and quite a few scams as well"
Icon (ICX) Future
As a result, over 95% of successful ICOs and cryptocurrency projects will fail and their investors will lose money. The other 5% of projects will become the new Apple, Google or Alibaba in the cryptoindustry. Will ICX be among those 5%?
It is more than plausible.
ICX did build a solid ecosystem and the team is pushing simultaneously on both fronts: tech and business side.
Between the many partnerships, some of the major ones include:
Partnerships with Woori Bank and Nonghyup Bank, two of the largest banks in South Korea; with the larger healthcare blockchain consortium in South Korea; Partnerships with the larger insurance consortium in South Korea backed by the Ministry of Science; Partnerships with Samsung; Partnership with Daily Financial Group etc.
There is also the benefit of coming from South Korea. One of the major benefits for Icon is that it is the biggest blockchain project coming from a very tech-savvy South Korea. It's a nation quick to embrace technological change. You could probably pin this to Korea's incredible economic development in the latter half of the 20th Century, when it was transformed from an impoverished country in the aftermath of the Korean War into a wealthy nation with the 12th largest economy in the world.
As reported by Quartz, more than 30% of employees within South Korea have owned cryptocurrency at some point. The ICON blockchain project was started by Korean fintech startup incubator Dayli Financial Group, which also owns Coinone, one of the country's largest crypto exchanges. 
While there are many competing projects looking to connect various industries and public sectors in other countries, ICON has established itself as the only real contender to dominate blockchain development in South Korea.
ICX should see major gains with the Korean markets building steam and the overall crypto markets building momentum. ICON has a decentralized exchange for OTC exchanges, they were created by one of the largest financial groups in South Korea.
All of this summed up means one thing: ICX might live through couple of orchestrated and, for a regular trader, completely unpredictable pumps but the majority of time will be murky sideways trading with small volume and no significant interest from the market. 
Price will heavily depend on what BTC will do and since many analysts think BTC will not be making big moves in this year, it is hard to expect ICX will do them either. The price will probably stagnate and record slow-moving depreciation or appreciation depending on the team activity, potential technological breakthrough or high-level partnership.
Market prediction for ICON price 2019
With the market being completely unpredictable, forecasting the cryptocurrency price is really more of a gamble and luck rather than a data driven guesstimate.
Electroneum ETN Future Looks Grim: Price Prediction for 2019
Let's throw a glance at the eminent publications and personalities, and their predictions regarding the Icon (ICX) price, which will give us another point of view to consider:
CoinLiker
CoinLiker is a crypto website which predicts that ICON might reach $3.79 by the end of 2019  which is pretty unrealistic and probably one of the most bullish (optimistic) ICX predictions we have seen as right now, that too when it is trading at less than $1. CoinLiker also predicts that in 3 years, ICX might trade at $9.59 and in 5 years, it might touch $13.62.
Wallet Investor
Walletinvestor- a crypto forecast hub predicts that ICON price might reach $0.263 USD by the end of 2019, which seems pretty reasonable and conservative.
Trading Beasts
Trading Beasts- a crypto news publishing forum predicts that ICON will be at a maximum at $11.86 and minimum at $9.48 by 2019 end.
Price Prediction
Price Prediction is a cryptocurrency price forecasting forum, which predicts that 2019 is going to be a much better year than 2018 for ICX as the coin's price value will hold its value between $11 to $17.
Icon (ICX) Future: 2020, 2023, 2025
If ICX respects their roadmap and continues delivering new business partnerships, in 2020 it could potentially eclipse its all time high of $12.04
If ICX maintains its relevance in the industry and manages to keep up the pace with their competition, it might be worth 10-100x than its hitherto all time high.
Again, If ICX maintains its relevance in the industry and manages to keep up the pace with their competition, it will surely be 100x+ more worth than now.
Predicting prices of novel, highly volatile and risky asset classes is a thankless task – best answer is no one knows. Educated guess is that realistic ICX price for the foreseeable future is somewhere between its current price and its all time high.
---
Join Our Telegram Channel

CaptainAltcoin's writers and guest post authors may or may not have a vested interest in any of the mentioned projects and businesses. None of the content on CaptainAltcoin is investment advice nor is it a replacement for advice from a certified financial planner.
The views expressed in this article are those of the author and do not necessarily reflect the official policy or position of CaptainAltcoin.com